Penelope Stout: History or Fiction? 5
Penelope: A Novel of New Amsterdam

This novel is 400 pages of fiction wrapped around a few pages of history. A surprising amount of information still exists about 17th century New Amsterdam. As much as possible I have included people, ships, and events from historical documents. To separate fact from fiction, click on "Novel Time Line" in the left margin.
Goal
My goal is to create a novel:
1. that expands Penelope's story and shows her immersed in that historical era
2. that genealogists will buy for themselves and show to their genealogy-phobic relatives
3. that is so well written and so interesting that those relatives will love the story! Of course, that meant creating more fictional drama such as religious controversy, mother-in-law problems and a murder mystery because a mere scalping isn't enough to sustain an entire novel.

Click on "Read Chapter 1" in the left margin and see how well I'm doing
or click on "Documentation" to see the historical record.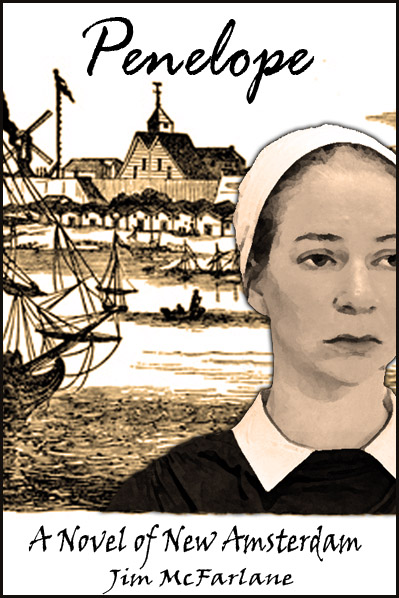 Description
Title:
Penelope: A Novel of New Amsterdam
ISBN: tbd
Publication Date: Spring 2012
Format: 5.5 x 8.5 paperback
Price: about $15.00
Order From:


Status

January 20, 2012
1. creating this web site
2. final edit
3. creating the print file
4. creating cover
Back Cover Teaser
In 1640s Amsterdam, the richest city in Europe, near-penniless Penelope Kent dreams of voyaging to America to search for her merchant-father who disappeared on a secretive get-rich-quick scheme. To voyage requires a husband or guardian. Matthew, her betrothed, dreams of finding a new home in America for his congregation of English Separatists like the Pilgrims did a generation ago. But the elders of Matthew's congregation accuse Penelope of immoral behavior that threatens to expel Penelope from the congregation, from Matthew's life, and from her dream.
But she never imagines the dangers that await her in the New World.
Penelope's Descendents Who Have Read the Novel.
Or At Least Read Chapter 1
After you read my novel, send me the short version of your descent from Penelope, I will enter that info into a genealogy program and print a list of cousins. You may want to use initials for living people. Include your email address as part of your first name if you desire cousins to contact you. Here is my example:
Penelope (abt 1628 – abt 1738?)
Alice Stout (abt 1650-?)
Patience Throckmorton (1671-1726)
John Coward (abt 1700 -1760)
Deliverance Coward (1737-1787)
Hannah Randolph (1761-1837)
James Longstreet (1786-1833)
Eliza Parke Longstreet (1828-1914)
Fannie Holt Lucas (1845-1899)
James William Eckford (1873-1946)
Beulah Broach Eckford (1913-2008)
Jim (jimmcfarlane@juno.com) McFarlane
Click here to see your Penelope cousins.
The Author
I have been fascinated by my ninth great grandmother's survival since the day I read Benedict's 1790 account during my early genealogy searches.
I quickly exhausted the local library's resources and had to wait two decades for Google. I finished my research and began to write Penelope's story.
I thought I knew how to write but novels are quite different from computer programs. Which is why my daughter threw out my first 150 pages--you should be thankful--and told me to join South Carolina Writers Workshop. It took a few years but I finally comprehended "Show, don't tell" and "If you're a good enough writer to get your reader immersed in the novel, then don't do anything to distract her."
Then they paid me to retire and I started building my low-maintenance, low-energy, attractive (my wife insisted on that part), distinctive house in an acre of woods (I hate taking care of grass). My son helped with the framing and I hired a few contractors (like roofing and drywall), but I spent 20 months doing most of the work myself. We moved in (yes, I'm still married) in December 2011 and the house survived Christmas with 3 daughters and their husbands, a son and his girlfriend, and a granddaughter. Plus two dogs and a cat.
Now that's out of the way (except for selling the old house--the plan was the economy would have recovered by now), I am determined to publish the book soon. My third daughter has posed for the cover photo. My first daughter will sell and ship the books through her bookstore (very convenient for me).
After I print 300 copies, I will need to persuade 300 tenth-cousins to order the book so I can print 300 more books and find 300 more tenth-cousins.
Jim McFarlane